Company Overview
"A company with passion and enthusiasm exploring values for customers" Leidex, a company established in 2007, is a company specializing in automatic equipment used for cosmetics. We promise to grow together with our customers by providing best services through effective and efficient communication with them.
Leidex CI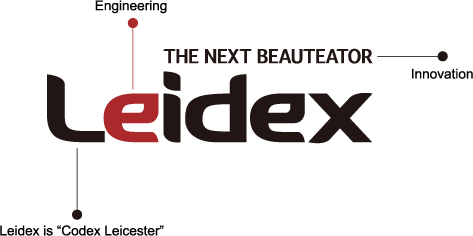 Codex Leiceter is a famous scientific

work done by Leonardo Da Vinci.
He recorded on this notebook when he came up with any kinds of innovative ideas. Leonardo Da Vinci had a special habit of taking notes, recording on this notebook whenever he came up with any kinds of innovative ideas. In this notebook, we can see that he had recorded all his innovative discoveries and their principles together with drawings. We could see through his note that he had a deeper understanding of science than anyone else, and that he was a genius who was a step ahead of the generation.
COMPANY MOTTO
Back to the Basic!
challenge

Respect creative ideas and methods to build a progressive organizational culture.

Passion

Grow up as a specialist in one's field with strong will & self-esteem.

Communication

For communal goal, make right decisions by communicating with all members.

Voluntary & Responsibility

Act voluntarily with responsibility.
Vision & Goals
Goal

With innovated technology, increase the value of cosmetics and contribute to happiness in life.
Strategy

To achieve common goals together, gain customer's trust and go forward without fear
Vision

Become a top global brand among the cosmetic machine manufacturers in 2020
Core competence

Innovative R&D Technology
Multiple years of experience & faithful services
Management focused on man power