Lipstick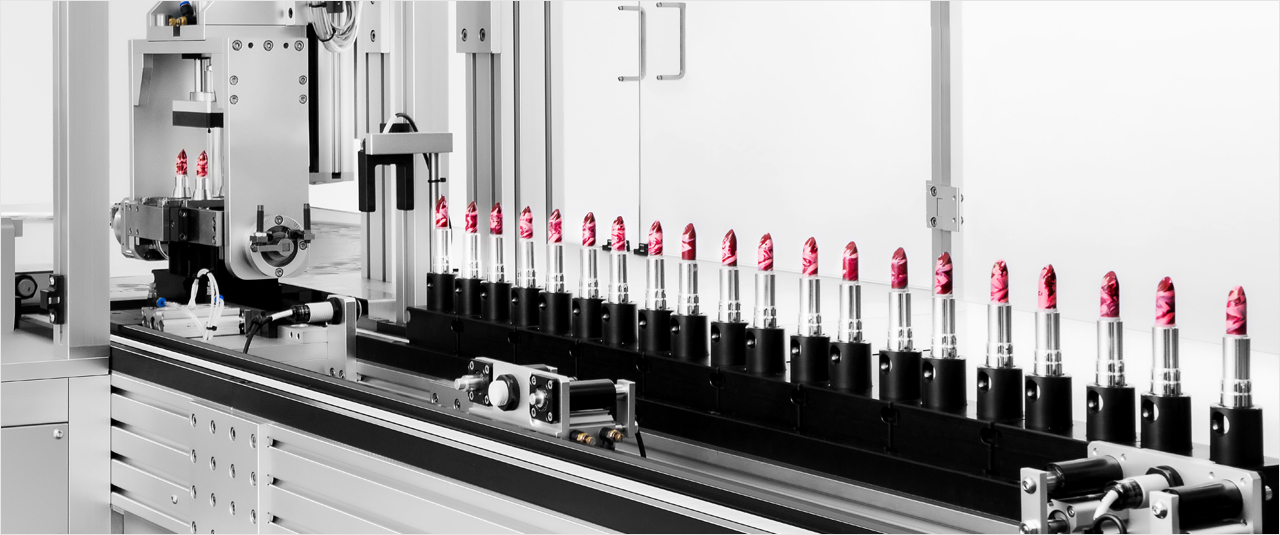 Leidex is the first in Asia to have succeeded in developing a European style, integral silicone rubber mold.
By applying an integral rubber, we were able to remove the compartmental lines and produce beautiful & sophisticated lipsticks
With this integral silicone rubber, Leidex has been equipped with high technical skills, and are able to produce regular, slim, swirl, marble and multi-color lipsticks.
Powder

Leidex was the first to succeed in developing a servo press deliberate system, which control powder volume of range ± 0.5g, and it is able to produce 4,800 pcs (based on eye-shadows) per hour with 1 set of machine.
Leidex owns a patent on manufacturing process of multi lip palette with prominence and intaglio molding.
Leidex has a patent on auto forming for cosmetics & auto bulk supplying unit of powder.
Leidex owns a patent on a cosmetic forming method, which is the surface of the separate contents dish, and using solid foundation products with multi-color for forming a pattern.
With various patents related to cosmetics, the Government Organization in Republic of Korea has given Leidex, an INNO-BIZ certificate.
What we make
Lipstick

Lipstick Molding Machine
Lipstick Filler for Lab
Lipstick Extractor for Lab
Rubber & Molds
Powder

Powder Servo Press Machine
Multicolor Powder Servo Press Machine
Powder Hydraulic Press Machine
Powder Hydraulic Press for Lab
Baked Powder Forming Machine
Extruder
Wet Powder Machine
Filler

Swirl Filling Machine (Press/Hot)
Marble Filling Machine(Skin-cover/Stick)
CC Cushion Filling Machine
Mascara / Lip-gross Filling & Capping Machine
Multi Function Filling Line
Multicolor Filling Line
Multi Skin-care Filling Machine
Others

Pouch Sealing Machine
Firm Shrinking Machine
Auto Capping Machine